PRINT, CUT, and DRESS UP like paper dolls!

Ready for an evening out and a night on the town? This Bombshell knows what she wants and flattery will get you everywhere! These digital stamps are designed to compliment the Bombshell Angel stamp set. All digital outfits are sized to perfectly fit on your pin-up girl. Just open the file in any program, even your browser, and print at 100%. Get creative by using different patterned or textured paper to make her outfit really pop!
**download a free sample file to try out!** (You must be a forum member to download samples.) Visit our forum and gallery for more dress up ideas and tutorials.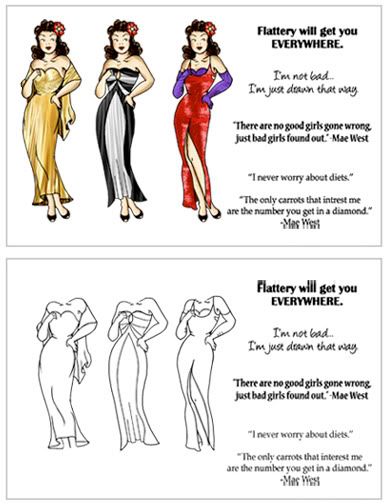 The "Evening Bombshell" digital set includes: View gallery art using these stamps:
Evening Gown to fit the Bombshell Angel Girl Stamp
Art Deco Dress to fit the Bombshell Angel Girl Stamp
Sultry Siren Dress to fit the Bombshell Angel Girl Stamp
"Flattery will get you Everywhere!" Text digital stamp
"I'm not bad, I'm just drawn that way!" Text digistamp
"There are no good girls gone wrong, just bad girls found out!"
"I never worry about diets." "The only carrots that interest me are the number you get in a diamond" Text digi stamp
wwwwwwwwwwwwwwwwwwwwwwwwwwwwwwwwvvwwwwwww
These Digital Dress Up Stamps are designed to work with the Bombshell Angel Set.
Please make sure you own this stamp set, or you will not be able to properly utilize these fabulous digital outfits.