Temporary Tattoo Body Ink (1) 3.5"x2.5" Pad -BLACK INK
Create the look of a real tattoo with rubber stamps, and our temporary tattoo body inkpad! The ink is safe and non-toxic for kids, specially formulated and made for applying on skin.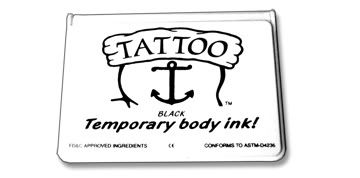 (Photos of stamped Tattoo Ink) halloween makeup, halloween temporary tattoo, kids tattoo



***Because we create the ink pads when ordered, ink orders may take up to a week to ship.